Healthcare Back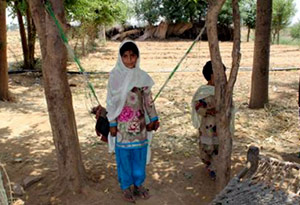 Health Camp, Rajasthan
Hasanghori is one of the innermost hamlets of the Gualda village in Rajasthan. Though the village lacks in several necessities like roads, it has an Upper Primary School as it realises the need for children's growth. Sir Syed Trust, UBL's partner NGO in Rajasthan organised a health camp, Nai Pahal, in the area and the school was one of the 10 selected for piloting.
The aim was to refer any child who was suffering with a chronic disease to the hospital to avoid any grave consequences. A few children were diagnosed with minor nose/ throat/ eyes problems but unfortunately it was realised that while the check-up was in progress, a few children had escaped the premises owing to their fear of doctors. One of those was a little girl, Muskan. To make the camp as worthwhile as possible, one of the members of the team visited the village to gather the fled students for their own benefit and landed on Muskan's doorstep. Further pursuing her Mother to motivate her, Muskan reluctantly returned to the camp where it was discovered that she had pus oozing from one of her ears that inhibited her auditory sense.
Ultimately, she was referred to the hospital where she was regularly treated for free, being cured to a great extent and further improvement is expected with future treatments.