WATER CONSERVATION, Maharashtra
Lawki, a hamlet of Kasoda village in Aurangabad had been reeling under the effect of water scarcity and the availability of water had been a challenge after January till the monsoons. A majority of the villagers were dependant on the sale of agricultural produce and milk for an income.
Agriculture was mostly restricted to the Kharif season. With villagers just about managing to source drinking water, cultivating twice a year was a distant dream for them. Lawki being a hamlet, did not even have a water tanker coming which was otherwise available for Kasoda.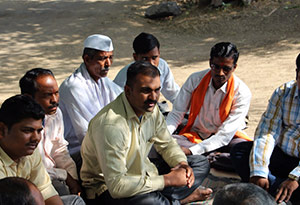 "During the summer months, we had to ration whatever water was available. We had no water tanker coming into our basti. In the last year, before the cement nallah bund, not a single farmer cultivated in the Rabi season and there was hardly any water left for the cotton"
Nanasahib Mati, Farmer, Lawki Village
The cattle feed that the villagers grew was reduced as a result of which many villagers were forced to give away their cattle as they could not afford to buy the cattle feed. A village of 300 households, every family was struggling for water.
In partnership with Dilasa, an NGO, UBL constructed a cement nallah bund to hold the water and help increase the percolation. As a result, the water level in the 15 wells has increased and the 12 bore wells that had run dry now pump water again. Even during the summer months, the village now has sufficient water for personal consumption as well as a second crop. Around 150 acres of land around the cement nallah bund now has sufficient water for the second crop.