SAFE DRINKING WATER AND WATER CONSERVATION, Telangana
Padmavathi Venkatareddy is a marginal farmer of Gunthapalli village in Medak District who owns a small piece of land adjacent to the water plant. Like many other farmers in the village, he was unable to manage his household expenses with agriculture. The prevailing draught conditions and reducing water level in the bore well was drastically affecting the yield from his land. Faced with adversities, he was considering an alternate livelihood. One day, it struck him that the waste water drained from the water plant newly established by UBL in his village, is let out to the drainage without any use. He thought that the water could be diverted to his field to save the crop this year. Spending his own labour for one day, he dug a small canal diverting the waste water from the water plant to his field.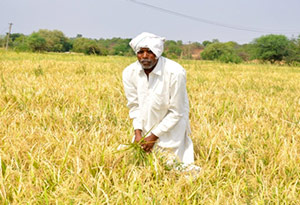 Unlike the other villages, the water source is not the ground water in Gunthapalli. It is the water seeping from the hills and collected in the well, the only water source for the entire village which was created by UBL. The water in the well does not possess any minerals or chemicals dangerous for health and hence it has become a source of water for Venkatareddy.
He got a record yield of 35 bags of paddy this year. He offers prayers to the water plant every day before he enters into his field just like they do to God in temples. For him God is in the form of the UBL water plant.