Projects
Disaster Relief
Disaster Relief
During the times when water shows its unforgiving side, the human kind strives...
Read More

Disaster Relief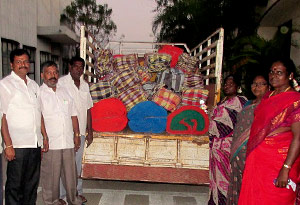 During the times when water shows its unforgiving side, the human kind strives to put a brave face forward. The loss is inevitable; families are left incomplete and property is irreparably damaged. However, the ability of one to uplift those in despair is what binds the species.
The Chennai floods of 2015 were one of India's most relentless natural disasters where 500 people lost their lives, 18 lakh residents were displaced and a loss of Rs.46,000-1,00,000 crores was accounted. In this mayhem of despair and cluelessness of Chennai, UBL through the Akshaya Patra Foundation, took to contributing to the aid of the victims. Besides providing food to 1,50,000 of the survivors, the Empee Brewery of Chennai distributed sarees, umbrellas, buckets, jugs, mats, biscuits and sanitary napkins by visiting the desecrated land in person on 8th December, 2015.
The employees of EBL also contributed their one's day salary for relief and rehabilitation of the areas in Sithitaipatti village of Cuddalore taluk. Over a hundred families were helped with relief packages which were balanced in food material like rice, milk powder, instant noodles, bread and biscuit; clothing, bedspreads etc. The village head expressed gratitude towards EBL mentioning that they were the foremost in coming forth to help the languished. The Chennai Brewery also distributed 500 mats and bed sheets each to Aranvoyal and Tiruvur panchayats.
While disasters are nature's way of voicing its exploitation, it is imperative that those in the privileged areas come forward to assist the distressed and help combat the unfortunate circumstances.